Do you know the way to San Jose? I do, but I wouldn't recommend it if you support Trump. You might get jumped.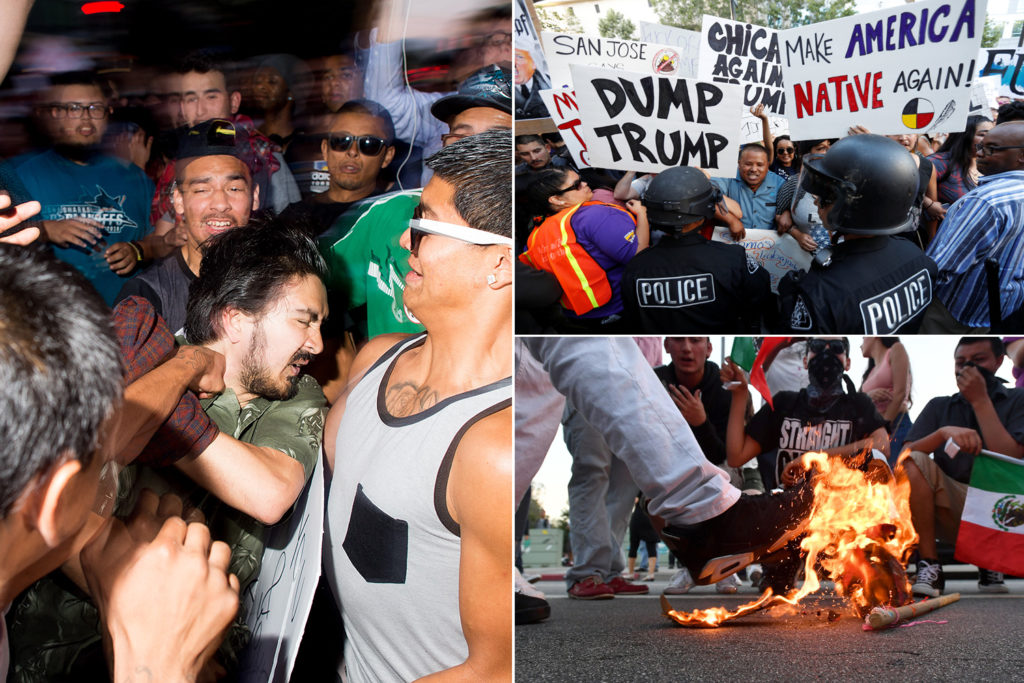 Last night's Trump Rally in America's 10th largest city (also home to at least several hundred thousand illegal aliens), wasn't remarkable as far as anything Trump said, but because of the dozens of assaults on Trump supporters.
The suckerpunch, beloved by thugs and cowards, was a popular way of "protesting" against Trump supporters calmly walking back to their cars.
This "protester" got creative and sucker-bashed a Trump supporter in the head with a bag. Another was hit in the head with a traffic cone.
Glad to see diversity, even if only in assault methods.
The embarrassing mayor of San Jose actually blamed Trump for the violence and praised police, who only made a few arrests and did virtually nothing during the assaults.
@sliccardo contact San Jose Mayor Sam Liccardo @ 408 299 7400 if you think thugs waiving Mexican flags shouldn't be allowed 2 beat citizens

— Natomas Bill (@NatomasBill) June 3, 2016
As despicable as these actions were, they serve as valuable evidence of the inherently violent nature of the left and their pawns. I welcome debate, it's important in a representative republic like ours, but the left doesn't want a debate, they want obedience.
For anyone with video evidence of Trump supporters suckerpunching Mexicans, please leave links in the comments below.
The Guardian deserves credit for trying the hardest to twist the story of anti-Trump supporter assaults into ambiguity:
"peaceful protests outside a Donald Trump rally in San Jose, California quickly descended into violence on Thursday night, with supporters clashing with anti-Trump demonstrators in running-battles around the convention center."
Of course every protest starts out peacefully until it descends into violence, kind of like gravity acting on a plane, explosive extremists don't have anything to do with it.
"A couple hours later, the demonstrators had mostly dispersed, but not until after some anti-Trump demonstrators had chased – and in some cases punched and attacked – departing Trump supporters, some of whom appeared intent on provoking and fighting as well, while other protesters tried to prevent the attacks."
They appeared intent on provoking the attacks! Those SOBs got what they deserved!
"But as Trump supporters began trickling out of the venue, the tenor of the crowd shifted. One woman in Trump apparel taunted the crowd before retreating into the nearby Marriott hotel, prompting a shift in the mood of the crowd."
Finally, the straw that broke the peaceful protester's back, if it weren't for that damn woman the crowd would have stayed calm and courteous, only telling Trump supporters to go f#@k themselves instead of bashing them in the head and chasing them down like dogs.
Why is Mexican violence against whites being ignored?
What happened in San Jose yesterday wasn't a protest, it was mob violence and intimidation. The message was clear, if you are a Trump supporter, you should fear for your life.
ABC provided surprisingly unbiased reporting, the video at the beginning sums it up perfectly. Trump supporters were in immediate danger of assault as soon as they left the venue, the "protesters" consisted of criminals intent on violence, alongside a crowd that egged them on (a handful of people tried to help, including reporters who directed people under attack to police).
The police had NO control of the situation and behaved like cowards while people in front of them were being beaten. The criminals even pursued people into parking garages to vandalize their cars and continue to intimidate them to the very last second.
The abundance of Mexican flags among the "protesters" leads me to wonder whether places like San Jose even qualify as American anymore. It's hard to imagine American "protesters" waving American flags while intimidating Mexicans in Monterrey or Durango.
Between my BA and MA degrees I spent seven years in San Jose, living downtown for much of that time. I have fond memories of spending time with fraternity brothers (some of them Mexican), going out to bars and restaurants and otherwise enjoying the city.
I can't say it was a great place then. I'll never forget the tattooed goblin that pulled a knife on me in front of St. Joseph's Basilica when I was walking with friends. Luckily I had the presence of mind to keep walking or I might not be here.
I suppose you can get by in San Jose as long as you don't rock the boat, keep your views to yourself and talk about how great diversity is.
Just don't wear the wrong colors, walk into the wrong neighborhood, look at someone the wrong way or talk to the wrong guy's girlfriend.* Certainly don't wear a MAGA (Make America Great Again) hat, it's liable to get snatched off your head and burned in effigy.
I for one don't want to live that way. Adios San Jose.
*Last New Year's Day, early in the morning as the festivities of NYE were ending (just north of San Jose), I complimented a young lady on her outfit (I can't help it sometimes). Her friend or maybe boyfriend, none too amused, took me aside and informed me that when the Mexican population grows large enough in California, they'll "kill all the white people". Since I was nice though, people like me would be spared. I can't say that it warmed my heart as he left with a smile and smack on the back of my neck for emphasis.