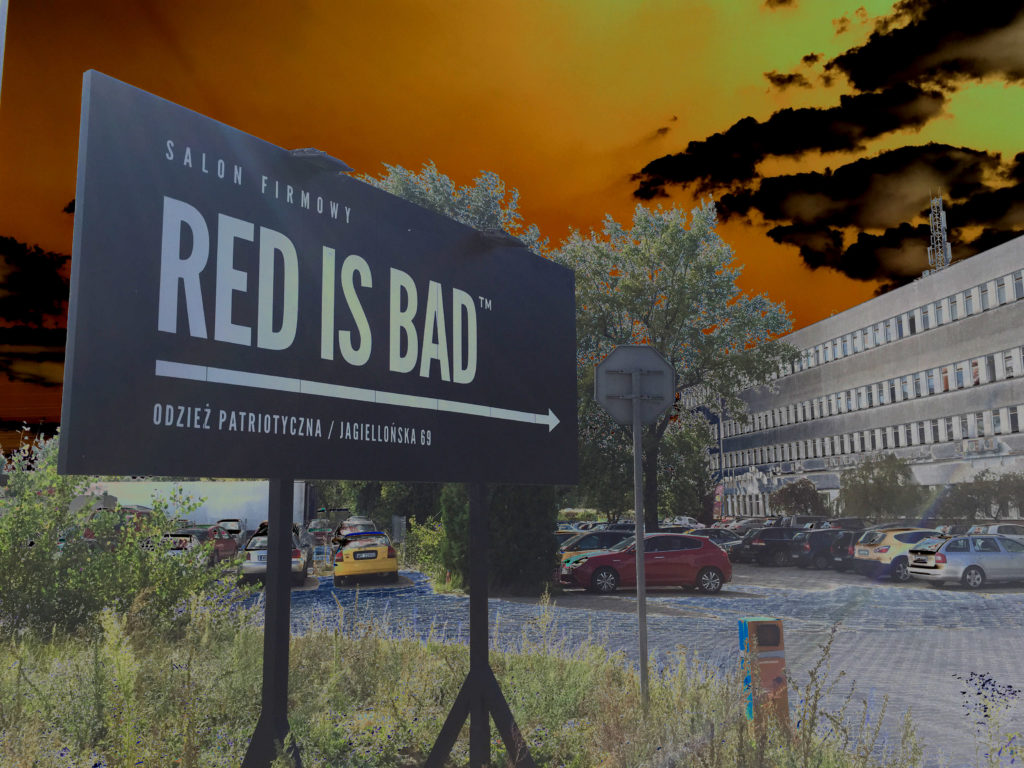 The past decade has witnessed a revival of Polish patriotism. The foundation of this phenomenon has been the immense historical scholarship that has thrived in the quarter century since the end of communist rule in Poland. The most popular books published have been those focused on the World War II underground resistance movement against both the Nazis and Soviets, as well as the "Cursed Soldiers" who fought the communists until the early 1950s.
Red Is Bad is perhaps the most popular of the clothing manufacturers to have capitalized on this upsurge in interest in history. They aren't just opportunists jumping on a trend though, they were founded in 2012 and manufacture and source all of their materials in Poland, dovetailing with the growth of economic patriotism.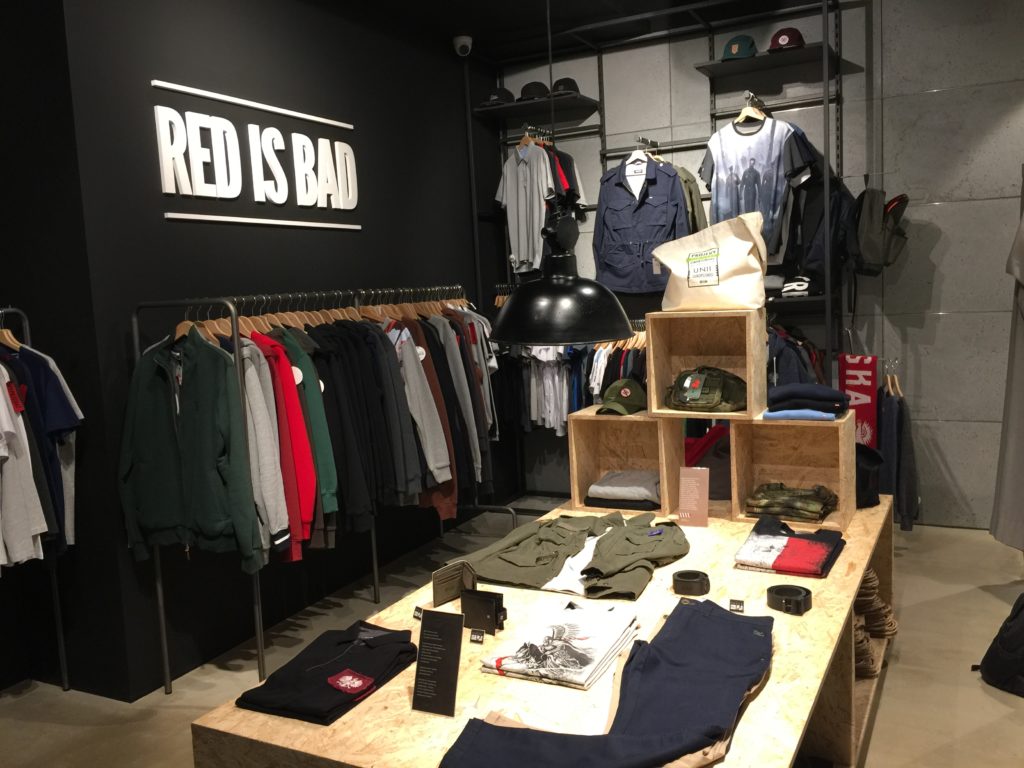 Yesterday I pad a visit to the Red Is Bad store located at Jagiellońska 69 in the Praga district of Warsaw. It's only a 20-minute ride on tram 18 from downtown and about 12 minutes on tram 20 from the Dworzec Gdański metro stop.
There's no better place that explains their raison d'être than their company manifesto (my translation):
Manifesto
RED IS BAD is a brand for people who treasure freedom and are proud of Polish history.
We call to mind forgotten heroes as well as the fights for independence of our ancestors. This is where we're from. We don't want to renounce tradition. We aren't afraid to take matters into our own hands. We believe in private initiative and hard work.
The highest quality and Polish production is key for us.
Maybe it's not a coincidence that RED IS BAD was born precisely here – in Poland.
In a country with a beautiful history, whose residents value freedom above all else.It was the Poles who held back the red wave in 1920, saving Europe from the Bolshevik flood. It was in Poland, during World War II, where the largest and best organized resistance movement of that time in Europe rose up. It was the Poles that never reconciled themselves to the domination of the USSR. It was here where the heroes of the underground fought with the communists until 1963 and it was here where the collapse of the empire of evil, created by Stalin, began. Memory of these accomplishments allows us today to look with optimism towards the future.
Paul and Kuba, in other words, how Red is Bad was born
We've known eachother since high school. It was the time of the Polish European Union membership referendum. Already then we were going against the current…As the only ones in our class against Poland's entry into the EU, which in those times was seen as no small extravagance. After high school our paths diverged, until they crossed again in 2012. Everything started with a Facebook page run on our own time, which was an expression of our disillusionment with the direction in which the Polish nation and Polish politics were drifting. Publishing original graphics, commenting on actual events and remembering beautiful but often also painful chapters from our history, on our fanpage, was met with an incredibly positive reception. Fans started to arrive. More and more suggestions appeared for us to produce shirts with graphics drawing on those we were posting on Facebook.
Without giving it too much thought, we decided to risk it and invest all of our savings, sewing our first set of shirts, which sold out with lightning speed. That was the beginning of the long road to the place where we are today. It's hard to believe that just 2 years ago our warehouse and office were in Paul's bedroom, and the entire design department consisted of one person – Kuba. In short, for the first year we did everything ourselves. What we always stress is the fact that the entire project arose without any European Union subsidies or wealthy investor. Our capital was the good will of people and the huge commitment of our Facebook fans. Thanks to them and thanks to our hard work from daybreak to night, over the course of barely 2 years we've succeeded in building a resiliently functioning clothing company.
Polish production = the highest quality
We sew our clothing in Poland. This is very important for us. We take care that all of the components that make up RED IS BAD products are produced in our country. Knit-wear, labels, zippers, leathers, laces, screen printing inks… – everything is made here. It's a pleasure to discover the potential of native, often small-scale firms, which survived the difficult times of communism and the 1990s and are still capable of delivering top-shelf products. We're proud to be able to say: Polish production. Polish quality.
RED IS BAD isn't only clothing 
From the beginning we've actively engaged in help to combatants, promotion of historical and freedom-oriented events as well as social initiatives. We had the honor of being the co-organizers of the drive which led to the creation of the first monument to Captain Witold Pilecki in the capital. We use our own financial resources, helping in the promotion of patriotic films such as "Pilecki", which came into being without government subsidies, or "Historia Roja" – the first film about the "Cursed soldiers". We also support talented Polish athletes. More information about our drives and initiatives: www.redisbad.pl/informacja/63/nasze-akcje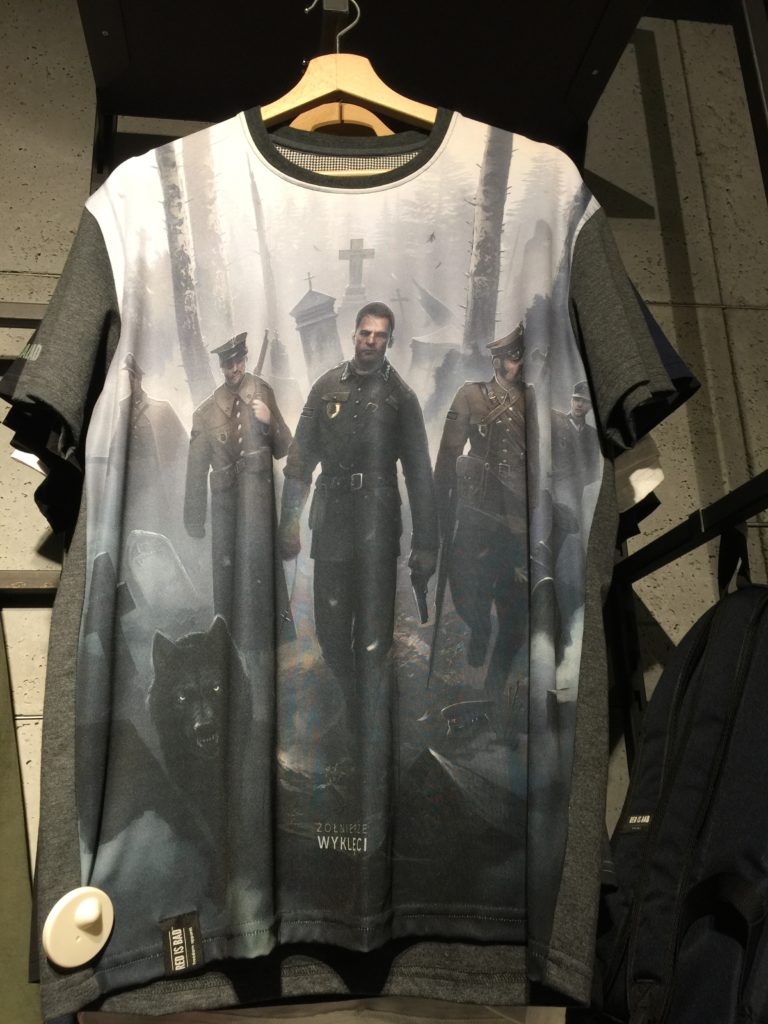 I have no affiliation with Red is Bad, but I respect the initiative of the founders, their patriotic message and I think they make great products. I hope that as time goes on more and more young Poles will pursue their entrepreneurial dreams here instead of abroad and make Poland the dynamic and prosperous place that it deserves to be. Check out Red Is Bad.