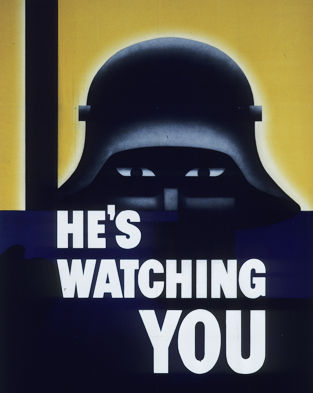 The latest issue of the Hoover Digest (the Hoover Institution's quarterly publication) recently went on line. Every issue usually has an article that archives/history-related and this issue has one by yours truly titled "Mightier Than Swords".
One of my favorite parts of my job at Hoover is creating annual museum exhibits, thus my article focuses on the latest exhibit that openend earlier this year on World War II propaganda posters. It was hard to choose several dozen posters out of a collection of over 100,000 in the archives, but I think I did alright. Propaganda posters were used to demonize the "enemy" to legitimize their destruction and the Nazis and Soviets used this approach to the extreme. Check out the article to see a great selection of posters.
It's interesting to reflect on how technology has changed the mediums by which political and social messages (also forms of propaganda) are conveyed. The recent presidential election is a good example of how digital media has dramatically surpassed print and perhaps even broadcast media in popularity. Outside of lawn signs, buttons and billboards, I don't know that U.S. politicians use printed messages to any great extent. A news article or video clip shared on social media or a simple Tweet can potentially reach millions of voters making the advantage obvious. The downside of course is that a candidate's gaffe, an embarrassing story or evidence of a "flip-flop" on a position can spread just as quickly. However, throughout my travels in Eastern Europe in recent years I still see that political posters are still a popular way to campaign. My speculation is that social media and perhaps just basic internet connectivity is less advanced than in the west, particularly for older voters, necessitating traditional forms of visual publicity. This will change slowly but surely as communication technology becomes more widespread.
Though the messages depicted in this exhibition may appear blunt and crude to modern sensibilities, the underlying principle of conveying information succinctly endures and propaganda is still a powerful tool used by virtually every organization in the planet. The negative connotation for the term emerged during World War I, but broadcasting messages, truthful, biased or dishonest, never went away. To put it in modern terms, one mans "propaganda" is another mans "marketing."
If you're near Stanford University between now and early February, 2013, check out the exhibit right next to the Hoover Tower. The Herbert Hoover Exhibit Pavilion is open 11am-4pm, Tuesday-Saturday, with free admission. On Saturdays parking is also free at Stanford. If you're interested, I'll be happy to give you a personal tour in the second half of January or early February, once I'm back from Poland.
Check out the article and let me know what you think of the posters!