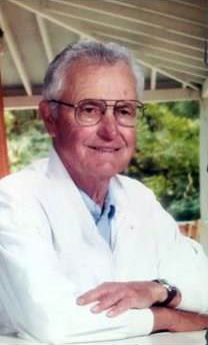 My childhood P.E. teacher at Our Lady of Mt. Carmel School in Redwood City, William "Bill" Callas, passed away last November. He taught physical education for so long, family friends currently in their 60s remember having him as their teacher.
William Robert Callas passed away on November 28, 2017 at the age of 94. William ("Bill") was born on August 2, 1923 in San Francisco, the only child of Chris and Katie Callas. Bill graduated from Balboa High School in 1941 and was soon drafted into the US Army Medical Corp where he rose to the rank of Sergeant, responsible for the re-conditioning of wounded soldiers. After the war, Bill studied at SF State University and earned Undergraduate and Master's degrees in Education. While there, Bill excelled in both basketball and soccer and was named Most Outstanding Athlete of 1949. In 1947, Bill met his wife Evelyn, and they were married in 1950. They lived in San Francisco until moving to Redwood City in 1954, where they raised their family of five children. Evelyn was the love of his life, and they were married for 66 wonderful years.

Bill was a physical education teacher and coach for 60 years, including 50 years in Redwood City at Kennedy Junior High (1958-1983) and Our Lady of Mount Carmel (1984-2008). Bill truly enjoyed teaching and coaching, and was a firm believer in the importance of physical fitness and he instilled the same in his students. Bill touched many young lives and always enjoyed reminiscing with former students. Bill is preceded in death by Evelyn and is survived by his loving children, Chris, Leslie, Jim, Carolyn, and Cathy, his 9 Grandchildren and 3 Great-Grandchildren.
I can personally attest to the emphasis that Mr. Callas placed on physical fitness. Every year at Mt. Carmel each class participated in the Presidential Youth Fitness Program, basically a test of your fitness that included a mile run, situps and pushups. I don't remember the specifics of the certificate, but I remember being immensely proud of finally obtaining one in 7th or 8th grade, finally surpassing the required goals.
I ran into Mr. Callas with his wife about 4 years ago outside of Kaiser hospital in Redwood City where I was born, and in retrospect it may have been shortly before she passed away. I thanked him for stressing the need to stay in shape, which stays with me to this day. Rest in peace Mr. Callas, you did good work and I'm a better man for it.