The internet is a vast resource. Think of it as the biggest library in the world, filled with an ever expanding number of libraries, archives and other sources of information. The challenge for us is organizing the links to information that appeals to our interests.
The simplest way clean up your web-browsing experience is to organize your bookmarks. Honestly, I have been lazy about this, but I decided that now was as good a time as any to make a change. Although you can use sites like delicious to save links, I think it's simplest to work within your browser. I use Google Chrome, so I used their bookmark manager.
Organizing your bookmarks isn't rocket science, but it does take some focus to get done efficiently.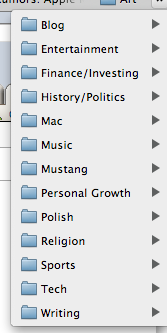 1. Create unique folders to separate your bookmarks into categories. If you have many bookmarks that fit into a category, (more than you can see at once in a single column) subdivide the category. You can nest more specific folders in a broad folder, or just separate them so you can see all your folders at once.
2. Purge your unnecessary bookmarks or dead links. We often save links that had a one time purpose. Maybe we saved a link to an item that we wanted to buy for someone as a gift or an article that we didn't have time to read. Once you've taken action and the link is no longer relevant, delete it. We've got enough information coming at us from everywhere, so the less digital clutter the better.
3. Save future bookmarks directly into the appropriate category. It's tempting to just save bookmarks to a default "miscellaneous" folder, but why take the time to do that if you're less likely to retrieve it? Putting bookmarks right into a relevant folder, or creating a new folder if needed, will help us find them more quickly in the future and actually make use of them.
This just scratches the surface of getting the most out of your internet experience, but it is a good start. You can apply the same principles to organizing your documents. Create specific folder titles to house different categories of documents. Delete irrelevant documents such as old forms or instructions. Use descriptive file names that will make retrieving documents easier in the future. This is my next project ;).