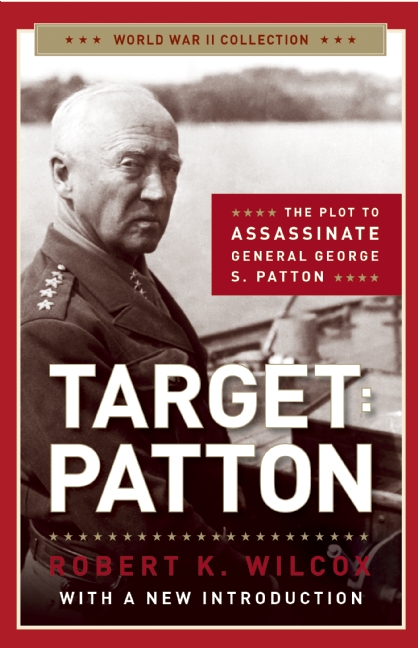 General George Smith Patton Jr., one of the most accomplished and successful military men in American history, died on December 21, 1945, less than two weeks after a car crash in Mannheim, Germany left him paralyzed. Patton's car crash on December 8, 1945, was only one day prior to his scheduled departure for the United States. Patton had planned to resign his commission so as to be free of the limits on his activities and statements that a normal retirement would entail.
In his provocative book, Target Patton: The Plot to Assassinate General George S. Patton, Robert K. Wilcox makes a compelling argument for Patton's "accident" in fact being an assassination attempt by the Office of Strategic Services (OSS), possibly in collaboration with the Soviet People's Commissariat for Internal Affairs (NKVD).
The reasons for targeting Patton were many. Chief among them was his disdain for the Soviet Union and belief that America had failed its stated aim to liberate Eastern Europe and simply replaced German domination with that of Russia. Patton went as far as suggesting that America should go to war with the Soviet Union while U.S. Army forces were still at their peak strength in Europe. The conciliatory attitude of many American government officials towards Stalin and the Soviet Union held through the end of the war, even after President Roosevelt's death, meant that Patton's remarks and attitude in the summer of 1945 were seen as heresy.
Another reason that Patton became a liability rather than an asset was the simple fact that Germany had been defeated. He was no longer useful to the governing elite who had no desire to confront Russia. Furthermore, Patton was seen as a political rival to Eisenhower, who could have exposed the numerous blunders of the campaign in Europe that cost the lives of tens of thousands of civilians and Allied soldiers and prolonged the war by months.
The most notable examples include the failure to close the Falaise Gap, which allowed hundreds of thousands of German soldiers to escape and later return to attack the Allies in the Battle of the Bulge. Patton was also forced to stop the amazing progress of his army in August of 1944 when his fuel supplies were diverted to the needs of Operation Market Garden, which ended in debacle. Had Patton been allowed to continue his pursuit of the retreating German armies, he may well have reached Berlin and/or Prague well before the Soviets did.
The most compelling piece of evidence that Mr. Wilcox presents is the admission by former OSS agent, Douglas Bazata, that he was the assassin, ordered by William "Wild Bill" Donovan (head of the OSS) to kill Patton. In interviews conducted with Bazata as well as a review of Bazata's diaries, he claims to have shot Patton through the window of his car with a specialized gun that fired a rubber or metal projectile that could kill its target, but wouldn't be as obvious as a bullet. According to Bazata his shot failed to kill Patton, but wounded him instead. Bazata further suggested that the NKVD finished the job by poisoning Patton while he lay immobilized in the hospital.
A second compelling witness to the intrigues of World War II and its aftermath was Stephen J. Skubik, a U.S. Army Counter Intelligence Corps (CIC) officer who learned of assassination threats against Patton from Ukrainian intelligence sources and personally alerted Donovan, only to be rebuffed and punished for causing friction with the Russians. Stephen Skubik's family has made his self-published book, Death: The Murder of General Patton December 21, 1945, available online, which offers a rare glimpse into the chaotic environment of post-war Germany, through the eyes of a well-connected and highly professional intelligence agent.
There are numerous other pieces of evidence that at a minimum suggest that Patton's death should be re-examined:
-According to Wilcox, all five government reports related to the car crash are missing from the archives.
-Based on the opinion of a Cadillac expert, the car in the Patton Museum that is claimed to be the one involved in the fateful crash, is not in fact that car, but a different model year with the Vehicle Identification Numer (VIN) crudely removed.
-There was also no autopsy performed on Patton after his death.
I for one am strongly suspicious about the circumstances of General Patton's death. A man who survived wounds in battle and three years of campaigning in Africa, Italy, France and Germany, doesn't simply die in an accident the day before he was set to depart for home.
Athough Mr. Wilcox isn't a professional historian, he's done the necessary archival research and exemplary investigative work to shine a powerful light on a critical episode in not only American, but world history. We must remember that the actions of the United States in World War II, particularly in regards to the Soviet Union, formed the geopolitical environment that would last for half a century and resulted in the Cold War. General Patton recognized the Soviet threat well before the war ended and was in a position, at a minimum, to warn American's of the dangerous situation created by their leaders, which ultimately led to the enslavement of Eastern Europe.
Read Target Patton: The Plot to Assassinate General George S. Patton