We've all heard about libraries, but what about archives? The main difference between the two is that libraries usually contain books and other published materials, while archives contain records, personal papers and all types of other unpublished materials.
I'm lucky since I get to work at both! This has caused an identity crisis for me, should I call myself a librarian or an archivist? Librarians are more familiar to people but I'm not just someone who says "Shhhh!" all the time! Archivist has a cool ring to it, but I have to explain what it means more often. I usually stick with librarian, since it's something people can understand right away. I want to do my best to improve people's perceptions of what it means to be a librarian.
Types of Archives
Archives can be public or private. Perhaps the largest archival repository in the world is the National Archives and Records Administration (NARA) which is an agency of the U.S. Government. The main branch of the National Archives is in College Park, Maryland but they also have 10 affiliated facilities and 14 regional facilities, that's a lot of facilities! The Stanford University Archives or the Hoover Archives (where I work) are examples of private archives. Public archives are funded by national, state or local governments. Private archives can be funded by university endowments or private donors and collectors.
What They Collect
Each organization collects materials based on their mission. NARA collects government records and the papers of prominent civil servants, among many others. The Stanford Archives collect materials spanning several centuries, including first editions of famous literary works and the papers of Martin Luther King Jr. The Hoover Institution Archives' collections relate to war, revolution and peace in the 20th and 21st centuries; yes it's as awesome as it sounds and I'll tell you more later.
Archives are fascinating because they contain the raw materials that scholars use to write books. Not all authors use archives to research their books, but most scholarly books with footnotes will refer to archival sources. Diaries, letters, photographs, records, sound recordings and film reels, held in archives, give us a glimpse into the past and help us to piece together the puzzle of history.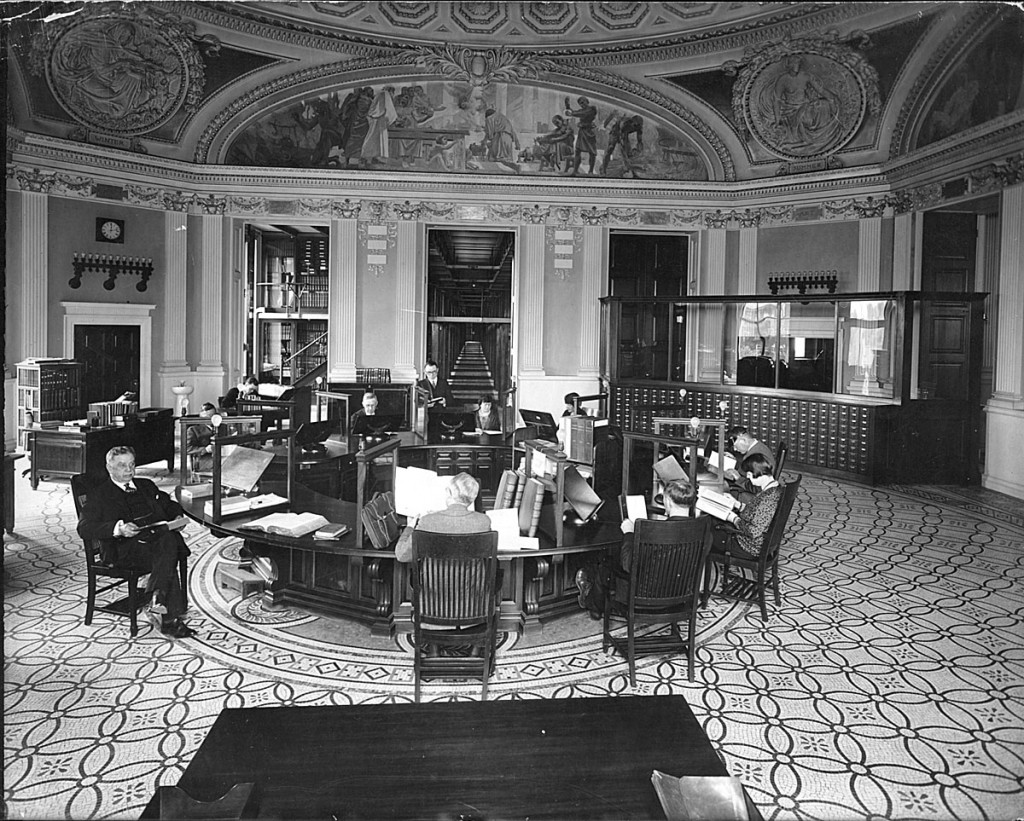 When Library Met Archives
One of the really cool parts of working at a the Hoover Institution Library and Archives, is to see the interplay between both types repositories. You can see how the raw historical material can be turned into a book or how the secondary source book, newspaper or magazine can lead a researcher back to the nitty gritty minutiae of an archival collection.
Recently I was giving a presentation about the Hoover Archives to a Stanford class. I showed them some original mug shots of Russian Bolshevik revolutionaries in our Okhrana collection, then I showed them the book written about one of the Bolsheviks, which was based on our collections (and which used a picture from our collection on the cover), and finally I pointed out the historian who wrote the book doing research right there in our reading room, how cool is that?!
Visit an Archive!
The whole idea of archives might be new to you, but believe me, even if you never plan on writing a PhD dissertation, it's worth your time to check one out. Archives in the U.S. are very accessible and they are a lot more common than you think. Even the Redwood City Public Library (down the street from where I was born) has a local history room which includes an archive of photographs and other unique items that document the city's history. Many archives will let you make photocopies or use your digital camera so you don't have to do all of your research on the spot.
Now that I've explained how fascinating archives are, I hope you decide to visit one. If you want to visit an archive but can't locate one in your area, drop me a line and I'll help you.
Do you have any questions about what to expect in an archive? If you've been to an archive, what was your experience like?