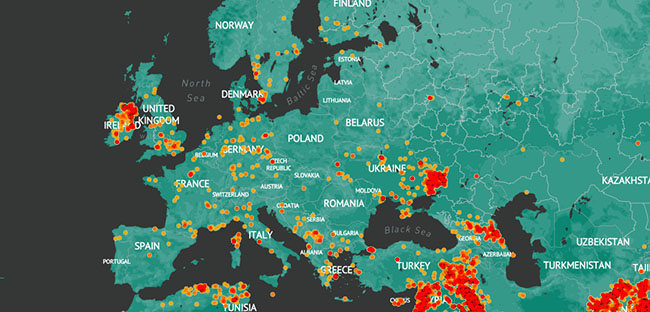 Rush Limbaugh, America's most popular media figure with 26 million weekly viewers, commented recently on the French presidential election and Emmanuel (now president-elect) Macron's comments against Poland.
RUSH: In France… This is interesting here, folks. Marine Le Pen is gaining on this little guy, this Macron guy. She's actually gained ground, and I don't know if it's close enough now to win. That election's May 7th; it's five days a away. But this Macron guy, the 39-year-old guy married to the 64-year-old woman, is threatening Poland with future sanctions. If he becomes the president of France, he's gonna put sanctions on Poland because they are refusing to take migrants, and that's not fair! I mean, the burden of taking migrants and refugees and all that's gonna be spread throughout the European Union. If you don't play ball, this guy is gonna sanction you.

Well, I have a little map here that shows by virtue of color-coded dots how many terrorist events have occurred in European Union countries. France, Belgium, Germany, United Kingdom, Denmark, Switzerland, Austria. You get to Poland, there aren't any dots. There isn't any terrorism in Poland! In every other one of these countries, there are lots of dots representing lots of them. So maybe this Macron guy thinks it's not fair that Poland isn't suffering any terror events, and so they want to make sure that some migrants end up in Poland so that there are terror events. That's exactly what they map looks like.
Until Macron's comments, Polish public opinion was strongly on his side as a moderate who would work to stabilize the European Union as opposed to the anti-EU Marine Le Pen. After his statement Poles began to say that neither option was a good one, but Macron was still the better choice.
I think Poles are fooling themselves into thinking they are being pragmatic. Because Poland hasn't experienced the deleterious effects of mass immigration yet (especially the migrant flood of 2015) they feel it won't affect them. They will be in for a rude awakening once France's and Germany's self-induced problems inevitably spill across their borders.
As France and Germany continue to weaken under the strain of polarizing societies, the EU will falter along with its two most powerful remaining members. As the EU doubles down it will likely give Poland an ultimatum to accept migrant quotas or face sanctions. If Poland breaks under this pressure and accepts even a small number of migrants, it will pay the consequences in due course.