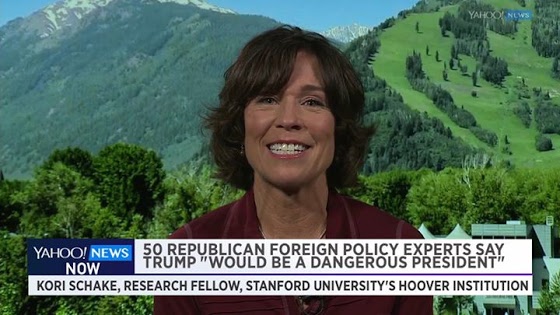 A story in the Washington Post highlights the fact that numerous "National Security Republicans" have likely been blacklisted by the incoming Trump administration, and probably aren't going to get jobs even if they wanted to. I welcome this news and hope that none of these people have any influence ever on Donald Trump and his policies.
Last spring, two public letters were signed by "experts" expressing vehement opposition to the candidacy of Donald Trump. The letter published in War on the Rocks ended like this:
Mr. Trump's own statements lead us to conclude that as president, he would use the authority of his office to act in ways that make America less safe, and which would diminish our standing in the world. Furthermore, his expansive view of how presidential power should be wielded against his detractors poses a distinct threat to civil liberty in the United States. Therefore, as committed and loyal Republicans, we are unable to support a Party ticket with Mr. Trump at its head. We commit ourselves to working energetically to prevent the election of someone so utterly unfitted to the office.
A second letter was published by the New York Times and contained 50 signatures, many of them repeats of the 122 signatures to the other letter.
I met several of the people that signed these letters. They and a number of others are affiliated with the Hoover Institution on War, Revolution and Peace at Stanford University, where I worked from 2001-2014.
Though most of my work was in the Hoover Library & Archives (roughly 20% of the organization's budget), I had plenty of contact with the "think tank" which makes up the lion's share of the institution (in funding if not in gravitas).
I met one of those people in January of last year at dinner with a mutual friend. He expressed his disgust at Trump, yet matter-of-factly contemplated the possibility of returning to "work in the next administration" after the election. He apparently didn't fathom the possibility of a Trump victory. Whose administration he planned to work in, I don't know, but it wouldn't surprise me if he'd just as well join a prospective Bush or Clinton administration.
Last week while attending a talk on the upcoming Trump administration by Andrew Michta, the one comment of his that raised my eyebrow was the suggestion that Kori Schake, a fellow at Hoover, might join the administration, as she had worked with General James Mattis, Trump's incoming defense secretary and also a Hoover fellow. Schake was a dual signatories of the "Never Trump" letters and one of Trump's harshest detractors.
As fond as my memories are of my time spent at the Hoover Institution, the affection is mostly reserved for the Library & Archives, one of the greatest academic treasures of the world. The "think tank" that makes up most of the Institution is of a far more dubious value. It produces much worthy scholarship to be sure, but I don't think it is at all proportional to tens of millions of dollars spent on it every year.
Though written by a snarky leftist (redundant I know), this article from 2007 gives a flavor of the life of a "fellow" in a think tank. I'd like to think that they have tightened up their selection criteria since then, but I fear that they've just tightened up their short-term fellowships while spending lavishly to bring in people like Niall Ferguson, the Scottish historian, and also signatory to the anti-Trump letter.
I attended a dinner last July at which Ferguson gave a rambling speech. The culmination of his talk was the bizarre ejaculation, "Let's not think about America first, lets think about the world first!" 330 million Americans and they had to import this guy to be a senior fellow?
The recent election campaign was a godsend in so many ways. One of the most important was how it forced public figures to reveal their true stripes. What we learned is that many so-called "conservative Republicans" have much more in common with Hillary Clinton than with Donald Trump.
Thank you Donald Trump for smoking out the "RATs" (Republicans Against Trump). They've proclaimed their utter contempt and future disloyalty to you from the highest mountaintop they could find. Don't let them back into the White House.