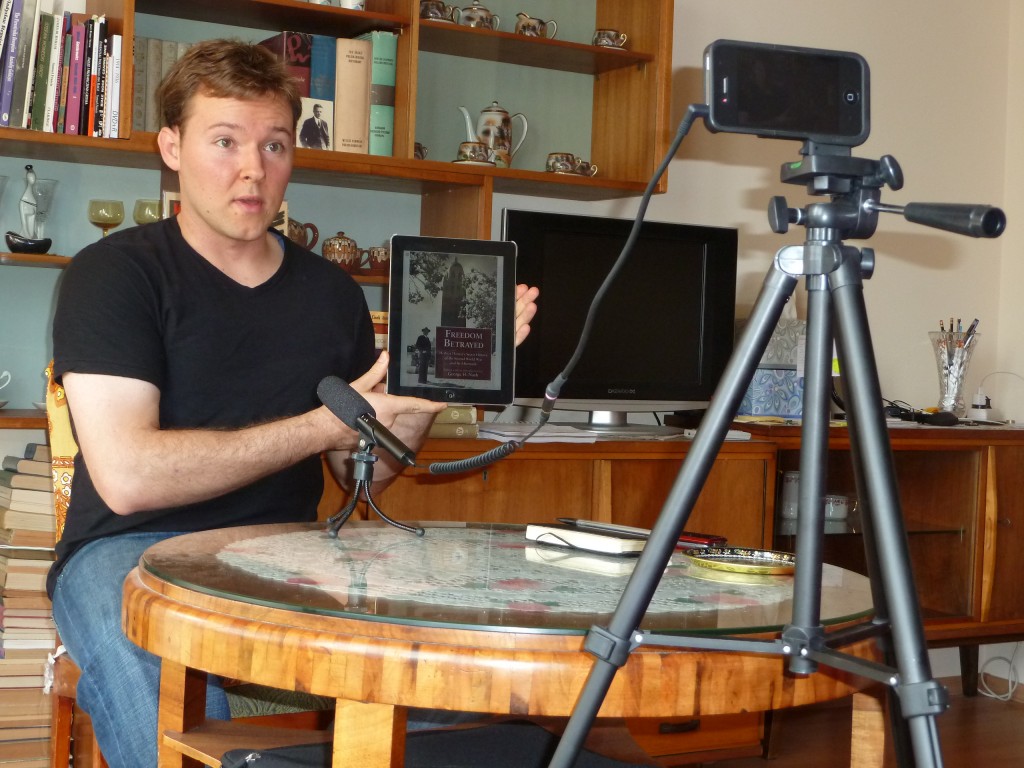 The last two posts on ResearchTeacher.com have been videos that I've uploaded to my YouTube channel. It came as a surprise to me when I learned that YouTube was the second largest search engine in the world (and owned by the largest, Google), so it makes sense to create video content.
Recording technology has rapidly advanced in the past several years, to the point where I was able to easily record the two videos with my iPhone camera and a few peripherals.
I use the iPhone 4S, which, from what I've read, has virtually the same video recording capabilities as the newly released iPhone 5. Both phones can record in 1080p HD (high definition) quality. The iPhone 4 records in 720p HD. The iPhone 3GS can also record video, albeit in 480p SD (standard definition).
The four peripherals that I use are:
-The Xshot Tripod Adapter: This special case comes with two tripod adapters that allow you to mount your iPhone in either landscape or portrait mode. The case fits either the iPhone 4 or 4S and also comes with a "mini" tripod with flexible legs that I use for my microphone stand. As a matter of convenience and because I like the case, I keep it on my iPhone, rather than removing it in between recording sessions.
–Ravelli 49″ Light Weight Aluminum Tripod: This is a very inexpensive tripod that's suitable for my recording needs. It's sturdy for such a lightweight tripod, but I wouldn't recommend it for heavier, DSLR cameras. For my iPhone and small camcorders, it work great. One tradeoff that I made with this tripod is its 49″ maximum height. This is about 12-20″ shorter than the height of tripods that are slightly more expensive, but the advantage is that the minimum height is 22″, making it suitable for table-top video recording, while other tripods are 30″+ at their minimum, too high for face-level recording. The Ravelli also comes with a "mini" tripod.
–Azden High-performance Stereo Condenser Microphone: The built-in, iPhone microphone is adequate for recording scenery and events where sound quality isn't critically important. When recording interviews or videos like I've recently done, the iPhone's mic isn't sufficient. For this reason I selected the Azden microphone. The Azden is one of the best condenser microphones under $100. I've also used the Audio-Technica Lavalier Condenser Microphone, but I prefer the sound quality of the Azden for these videos. The Azden uses one AAA battery and it comes with an adapter to mount it to a camcorder. My preference is to keep it on a stand. The Azden microphone cord, along with the iPhone microphone adapter, extend about 2ft.
–iPhone 1/8 inch microphone adapter: The audio jack on the iPhone is meant to support audio output, namely headphones, so the microphone adapter from kVconnection is necessary to allow an audio input device, the microphone, to hook up to an iPhone. It's flexible yet durable.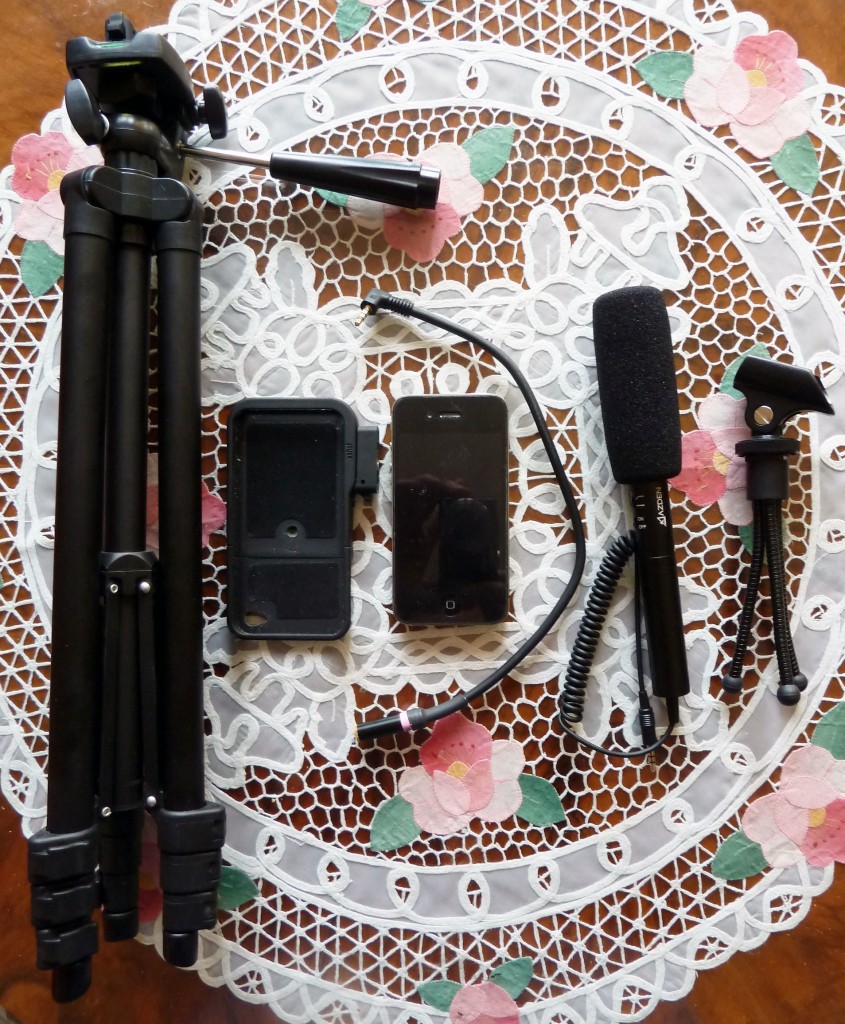 If you don't have an iPhone, you can still create a similar setup with your smartphone or camcorder. There is a selection of tripod adapters designed for various smartphone shapes and sizes. I'm not familiar with Android phones, but you'll also need an adapter to connect an external microphone to the audio jack. If you can't find one, contact me and I'll help you. Most camcorders have an external microphone input, so you won't have to worry about an adapter.
Excluding the cost of the iPhone, this entire setup cost under $150. Of course you can spend more on a tripod, microphone and camera, but  that will depend on your needs. If you are recording oral histories with family members, community events, interviews for research projects, etc., this setup will cover all of your needs.
I don't anticipate any major changes to my setup in the near future. I might eventually upgrade my microphone, but for now the Azden is serving me well. One change I'll make is including another lamp for videos shot at night (like the Freedom Betrayed review) to improve the color, since the ambient light from the fixtures in the room is barely adequate. The iPhone 4S sports a great video camera that was even favorably comparedto the Canon 5D MKII (which costs nearly $2,000 for the camera body alone, excluding the lens).
What's your video recording setup? Do you have any suggestions for mine?
Recommended:
–Herbert Hoover's Freedom Betrayed, Video Review