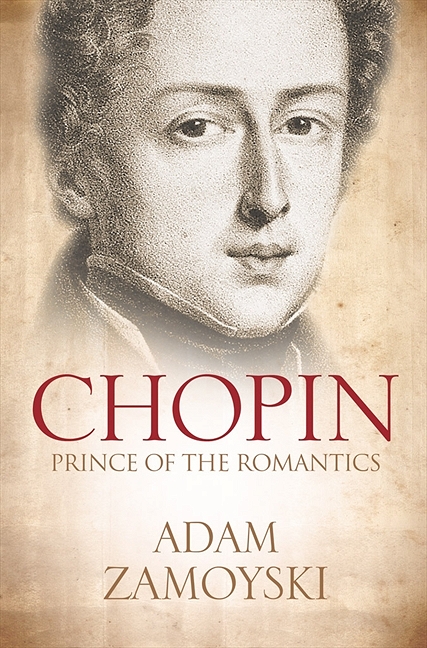 Frédéric Chopin was born in Żelazowa Wola, Poland in 1810. A virtuoso pianist, Chopin is regarded as one of the greatest musicians in history.
In Chopin:Prince of the Romantics by Adam Zamoyski, we witness firsthand Chopin's triumphs and tragedies, his personal and public life, based on meticulous research in primary sources, including his letters and those of his friends and contemporaries.
At the age of 7 he began composing and by 11 he began to "seek the key to a deeper understanding of the language of music, following his own instinct and taking advantage of every opportunity to expand his knowledge." At the age of 20, he left Warsaw, where he had been living, and departed for western Europe, never to return to Poland again. He spent the better part of his later life in Paris.
By his early 20s he had "already composed some of the greatest music in the Romantic cannon", yet "…he was still searching for a way forward. It was his work on the Etudes, lasting from 1829 to 1832, that, more than anything, allowed him to develop his groundbreaking ideas, to revolutionise piano playing and to achieve new depths of sound and feeling with his instrument."
Chopin only made 30 public performances in his career, preferring instead to play in intimate, salon gatherings at the private residences of his friends and aristocratic patrons. Besides such private performances, Chopin also taught lessons and sold his compositions to support himself.
Yet just as he was a born pianist, so he turned out to be a born teacher, 'a holy artistic zeal inflamed him and then every word from his lips was a stimulation and a source of enthusiasm'…Chopin strove in the first place to open the world of music to them, regarding technique as no more than a means of unlocking their powers of expression…Chopin taught that all suppleness and intelligence should be concentrated in the fingers themselves. He believed that every finger had different attributes, and that these must be developed to the full. All possible finger movements were permissible – passing one finger over another and playing the black keys with the thumb included. The whole point of this method was to develop the touch, which to him was the beginning and end of piano playing. Fingers should fall, not strike, and caress rather than hit the keys. And the same key should be touched in different ways in order to produce a variety of tones.
Chopin's heart was never far from his native Poland. He never mastered the French language, so he took comfort in the handful of friends and visitors with whom he could communicate most freely. "One's greatest solace in a foreign land is to have someone, who carries one's thoughts back to the homeland every time one looks at him, talks to him or listens to his words." His music on the other hand carried with it the passionate sentiments of Polish history, particularly important in the political humiliation that saw Poland subjugated to her imperial neighbors for all of Chopin's lifetime, with the exception of a doomed uprising.
Chopin died at the age of 39, most likely from tuberculosis, though other ailments plagued him throughout his life. The pain he suffered undoubtedly affected his music, which was both cathartic and his sublime method of expression. In Chopin's own words, "Music has its own language and its own purpose, and one has to learn to reach the depths of the listener's soul."
Chopin's music touched those that listened to him deeply, as stated by a close friend after one of Chopin's last performances, "You have gained in suffering and poetry; the melancholy of your compositions penetrates still deeper into the heart; one feels alone with you in the midst of a crowd; it is no longer a piano, but a soul, and what a soul!"
Chopin:Prince of the Romantics on Amazon