Update: Apple has made the AirPods available online. Shipping dates have slipped rapidly and new orders will be filled in January. Apple will also be receiving AirPods in their stores starting next week.
---
Several months ago I told you about the AirPods, Apple's first truly wireless headphones. When they were revealed at the iPhone 7 event in September, their release date was described as "late October".
When that time frame arrived however, just a day before Apple's new Macbook Pro event, the company quietly released a statement to TechCrunch delaying the AirPods, simply saying:
"The early response to AirPods has been incredible. We don't believe in shipping a product before it's ready, and we need a little more time before AirPods are ready for our customers"
More than a month passed without another word from the company, leading to speculation that the AirPods were facing production or connectivity issues (or both) and that they might not even be released this year, if ever.
Then yesterday, out of the blue,  MacRumors reported on an email reply to a frustrated Apple customer was answered (apparently) by none other than Apple CEO Tim Cook himself:
Customer's comment: "Give us a release date. I really bought in to the wireless vision you painted. Now I'm stuck waiting with my EarPods but can't charge my 7 at the same time which I need to do at work. Let us know if it's a month or 6 months, because then I'll just buy some other wireless headphones."

Tim Cook's response: "Thanks for your note. Sorry for the delay—we are finalizing them and I anticipate we will begin to ship over the next few weeks."
While a "few weeks" is still pretty vague for a release date, it seems to indicate that the AirPods will be available for purchase before Christmas. Of course this says nothing about how widely available they will be (even the 12-week-old iPhone 7/7+ is facing avaiability issues), but I'm cautiously optimistic that many consumers will be able to put the AirPods through their paces before we start 2017.
The downside for many people will be the price. At $159 the AirPods aren't cheap, but the tradeoff will hopefully be the overall best-in-class experience of any wireless earbuds, including a reliable bluetooth connection (the plague this category of product), interconnectivity between Apple devices (listen on your iPhone and then switch to your Macbook without having to re-pair), good 5-hour playtime with a convenient charging case (up to 24-hours of extra juice) and a "beam forming microphone" for good-quality phone calls and Siri usage.
The closest competitor to Apple appears to be Bragi and their newly released "Headphone" product. The downside to these is that they don't include a charging case (you have to plug the case into a USB port to charge the Headphone). Off-brand competitors such as Rowkin have already released products, and while they won't be the first choice for many people, they'll probably occupy a sizable (if not majority position) in this market once their quality improves and prices drop into the sub-$100 range.
The lengthy delay of the AirPods has led to a lot of criticism of Apple and added fuel to the perception that the company's management is off track and perhaps incapable of effectively leading the world's most valuable company (it's worth over $700 billion, twice that of Exxon Mobile). The AirPods delay is just the latest example. MacDailyNews sums it up well:
Sometimes Apple, the world's most profitable and most valuable company, still operates as if they only have five guys from NeXT working around the clock trying to do all the work on a shoestring budget.

Can't manage to have a compatible Remote app or Apple Music-capable Siri for the Apple TV launch… Can't have enough Pencils and Keyboards for the iPad Pro launch. Seriously? Can't have any stock on hand for two months after the so-called the Apple Watch launch date. Can't update their professional Mac for nearly two years and counting?

Why are these amateurish mistakes and lapses happening with startling regularity? You know, besides mismanagement?
It's easy to criticize from the sidelines, but in a free society it's this type of criticism that gives companies the feedback they need to adapt and improve. I think Cook's apologetic reply to the customer above is indicative of this. The ultimate feedback is whether or not customers keep coming back to buy the product.
I've been looking forward to the AirPods for a while now. Assuming the price isn't outrageously marked up I'll get a pair and write a review. Now the only thing I'd request is maybe a different color so they don't stand out as much?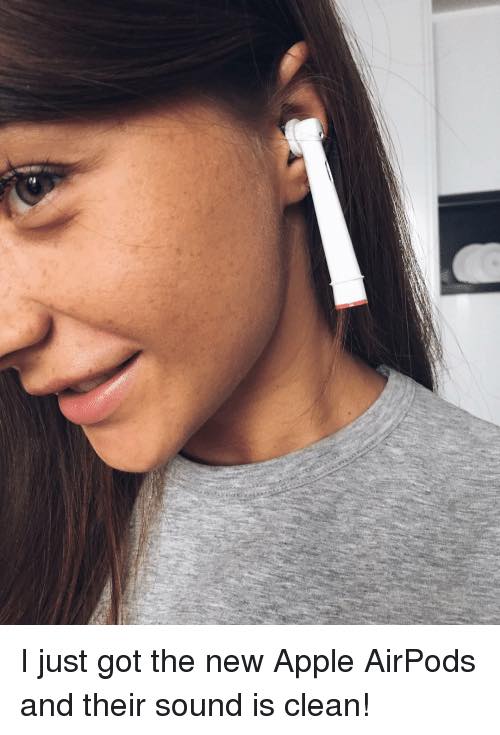 If you liked this post, sign up for my email list to be notified of new ones. Your privacy is always 1st and your email will never be shared: