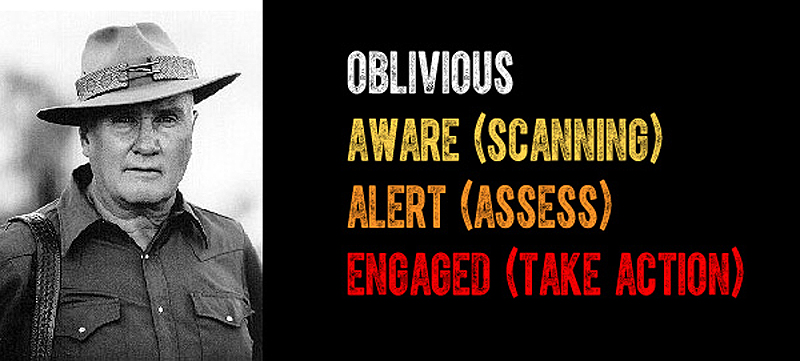 What would you do if a terrorist began firing into the crowded room you were in?
Asking yourself this question may be unpleasant and disconcerting to our seemingly safe and comfortable lives, but it's an important one. Heightening our awareness of our surroundings and taking reasonable precautions is a small price to pay for taking charge of our limited are of control in a chaotic world. It may just save your life.
Mike Cernovich offers some great advice on how to respond to mass shootings. It starts with the acceptance that life is fleeting, we could be gone at any moment. How many of the Orlando victims were feuding with friends or loved ones and never had the chance to make amends?
Each day brings death and calamity to the world. Those events are outside of your control. What you can control, and therefore what you must focus on controlling, are your relationships with people you love, your mindset, and your physical health.
You can't afford to leave your safety up to chance. Physical fitness is an important topic that I won't go into here, but it's only one part of the equation that starts with mindset. The best primer that I've read on the personal defense mindset is Colonel Jeff Cooper's concise book Principles of Personal Defense.
Alertness, Decisiveness, Aggressiveness, Speed, Coolness, Ruthlessness and Surprise are the keys to surviving a dangerous confrontation. Each principle is explained, along with personal anecdotes and practical advice. The book is a great introduction to thinking of personal defense in a holistic way. While we're unlikely to face a situation like what happened in Orlando in our lifetimes, a violent encounter at some point in our lives is a virtual certainty. How we prepare for it now will affect its outcome, either in our favor or against it.
A valuable tip that Mike mentions is to carry a high lumens tactical flashlight. I carry the Streamlight flashlight shown in the video. This can be used to momentarily blind an attacker and escape or if you can't get away, counterattack. Despite what you see in the movies, the best option 99% of the time is to get away from a threat as quickly as possible. Even someone who is armed and trained is going to be subject to an acute stress response which could cripple their ability to think and act. Unless you have no other option but to fight, grab your loved ones and get the hell out of there.